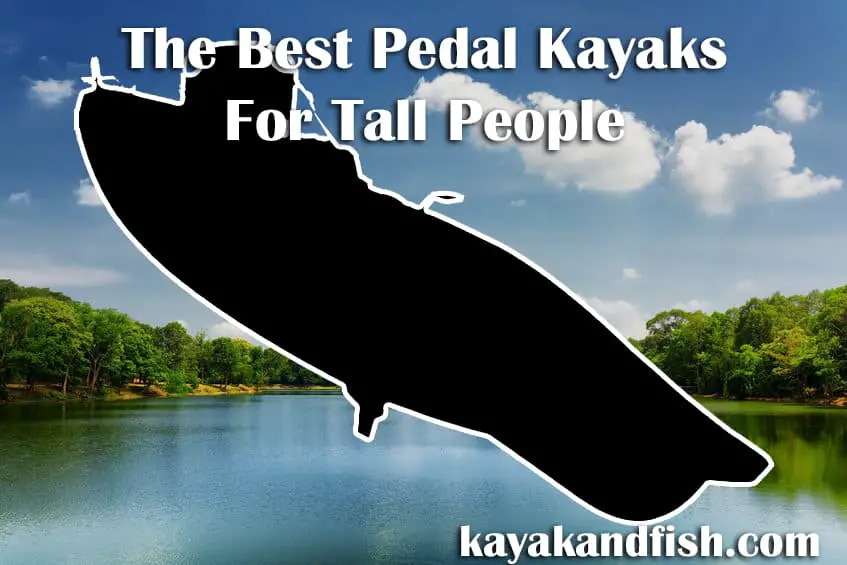 It's a hard life for us tall folks. If you're over 6-foot tall, that means you're in the 90th percentile of American males in height (Taller than 90% of all males)! All products are designed to fit those of average height which always means that we are left bunching our legs up in vehicles, airplanes, and even kayaks. I'm 6'4″ so I know how important getting an appropriately sized kayak is, especially when you're putting down a good amount of cash for a pedal drive.
There are a few kayaks on the market that are suitable for tall people and it's up to you to decide which one is best for you depending on your budget, weight, and exactly how tall you are.
I have created a chart with all the information that you need to guide you in making this big decision. I also cover what features to look for in a pedal drive kayak and why they're important afterward.
| Kayak | Length | Width | Capacity | Price | Comments |
| --- | --- | --- | --- | --- | --- |
| Jackson Big Rig FD | 13' 3" | 40" | 550 lbs | $3,499 | What I use |
| Hobie Mirage Pro Angler 14 | 13' 8" | 38" | 600 lbs | $3,889 | The "Cadillac" of kayaks |
| FeelFree Dorado | 12' 10" | 37" | 450 lbs | $2,499 | |
| Native Watercraft Titan Propel 13.5 | 13' 6" | 41.5" | 550 lbs | $2,999 | |
| Native Watercraft Titan Propel 12 | 12' | 39" | 500 lbs | $2,799 | |
| Nucanoe Frontier 12 | 12' | 41" | 650 lbs | $1,299 | By far the most stable (Pedal system sold separately) |
| Nucanoe Frontier 10 | 10' | 39" | 500 lbs | $1,099 | Budget friendly option (Pedal system sold separately) |
| Oldtown Canoe Sportsman PDL 120 | 12' | 36" | not listed | $2,199 | |
| Blue Sky Boatworks 360 Angler | 13' 4" | 48" | 500 lbs | $3,999 | Not a traditional kayak but interesting - insanely stable |
| Hobie Mirage Pro Angler 17T | 17' | 43.5" | 900 lbs | $6,599 | Normally a tandem pedal kayak but can be used solo - the price reflects that |
The Jackson Big Rig FD is the one I personally recommend because I have first-hand experience with the Big Rig. I'm able to move around freely on the kayak while standing without the worry of tipping and it has more than enough legroom.
Why Kayak Length Matters
As someone who is pretty tall, I understand the importance of proper legroom. It's hard to fit in vehicles, on airplanes, or just about any tight place without bunching up your legs which becomes uncomfortable quickly.
Obviously legroom is a given, we all know that we need that but what is easy to forget when shopping for a kayak is how you plan on storing your gear. The kayaks with the most room can easily become crowded when you're loading it down with gear. A long kayak gives you more area to store gear while maintaining proper room for your legs.
Why Kayak Width Matters
After you get comfortable in your kayak, you'll most likely want to start standing up to fish as it's much more difficult to pitch and flip sitting down.
When you stand up in the kayak, the center of gravity of the kayak moves upward – which will in-turn make it more wobbly. The best way to keep your kayak stable is to buy a wider kayak.
The wider your kayak is, the easier it is to balance on. You would be very surprised at how much 1 or 2 inches in width will help with stability.
Why Weight Capacity Matters
Chances are if you're taller then you weigh more as well, unless you're built like a professional basketball player.
If your kayak has a weight capacity of 500 pounds and you weigh 260, then you're already over half way to the weight limit of your vessel. Once you start adding gear like a fish finder, cooler, crate, tackle box, drinking water, paddle, and the list goes on. It all adds up very quickly. If you plan on keeping the fish that you catch, you would want to leave an appropriate amount of capacity to fit them.
Going over your kayak's weight limit can cause several problems. It will be harder to maneuver your kayak, pedal it, and it will make it more unstable. Depending on where you are kayaking, you add the risk of becoming swamped by waves or rapids.

For all the gear that I recommend, check out my Recommended Gear Page!
The Importance of Demoing
If you haven't yet, you will hear "demo, demo, demo" from at least one person before you buy your kayak. The importance of demoing cannot be emphasized enough.
You're planning on spending quite a bit of money on a kayak, as pedal drives are some of the most expensive kayaks on the market. You want to make sure that you're comfortable in the kayak that you plan on buying.
Several kayak shops host demo days once or twice a quarter depending on how popular they are and it gives you the priceless opportunity to try before you buy.
If you want to skip the demo and go straight into purchasing the kayak, that's probably fine considering that these kayaks are all top-of-the-line as far as their brand goes. I recommend demoing a kayak before you purchase it but it isn't absolutely necessary.
The Thoughts Behind My Selection of Pedal Kayaks
There are a few pedal drive kayaks on that market with a lower price-tag than the ones I recommend. The reason I do not mention those is because I will never recommend a kayak that is cheaply made.
I learned early on when I started kayak fishing that cheap kayaks are not the way to go. My first kayak came from Walmart and cost around 300 dollars; not even a year later I upgraded to a kayak made by Ascend and now I use a Jackson.
When searching for a new kayak, I looked for a kayak that was wide and long so that it could support me when I stand up and provide me plenty of legroom when I sit down.